Valid Religion

This monastery was just down the street from us when we lived in Long Beach ten years ago. It has a beautiful view of the ocean and we'd often pass it while out for a walk along the beach. To the left you can see a white shrine in which the Virgin Mary is standing. It is a very pretty installation though we sometimes would call it "Virgin Mary on the Half-shell." About half the time we'd pass by, there would be someone there, praying to the virgin, or lighting candles or incense.
The monastery used to be a convent owned by the Catholic Church, but was long ago sold to a Vietnamese Buddhist sect, and they have converted the building into a monastery for their monks. Every so often you would see one of the monks leave the building in their saffron robes, but for the most part they keep to themselves and maintain a quiet life of contemplation.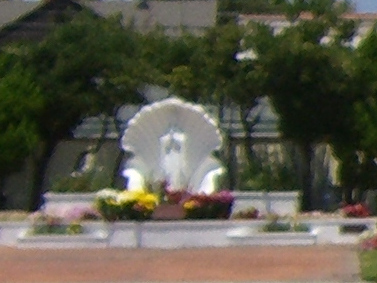 Now here's the thing: not only did the monks not tear down the Virgin Mary shrine, but they actively keep it intact, tending to the plants around it, the benches were people come to pray, and bring fresh flowers. I have never asked the monks about why they do this, or if it was a condition of the sale, but they never seem to mind. The Buddhist tradition maintains a very ecumenical respect for the beliefs of others, and maintains that there are many paths to enlightenment.
In my personal system of philosophy, I have a name for religions of this type: VALID.
I have to explain what I mean by this. With the possible exception of mathematics, I doubt that any statements of a philosophical nature will or ever can be determined to be TRUE. Thus, it is in my opinion foolish for any religion to declare itself True, as it is the height of arrogance, and proclaims that all of the other fifty thousand religions in the world are False. So, what I mean by a VALID religion is one in which the religion makes an admission of the following things:
Fallibility, that this religion may have made some mistakes
That absolute Truth is unknowable by man,
That other religions may have important and valid points, and be a legitimate source of hope and inspiration in the lives of its believers, and rightfully so,
A VALID religion is therefore one in which it recognizes other religions as potentially equally valid, and there is no Law of Excluded Middle (as with True/False) that gets in the way.
Any religion which declares itself to be the sole possessor of this elusive thing called The Truth, is by my definition INVALID. Alas, this includes almost all religions of the world, including many brands of atheism.
This monastery is, then, to me a triple-shrine. First, to the Virgin Mary herself, secondly to the buddhist monks that respect people's belief in her, and third to the possibility that a religion could if it so chooses become VALID — a thing which seems to me to be the only hope for peace among humans who choose to believe in the wildest of fairy tales. And to date, this monastery represents the only example to my knowledge of a valid religion.