Bubble Diagram Version Zero
This is a first attempt to get down on paper a bubble diagram of all the stuff that
we want to go into the house (click to enlarge):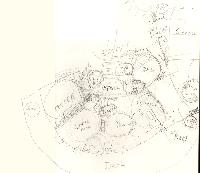 Clearly this thing needs work. There is a sort of clam-shell appearance right now, which
comes from the vague idea that we want to take advantage of the panoramic views in
the south-facing direction, and that we are on a slight slope heading south, towards
the bottom of the page. Consequently, the bubbles at the top of the page are not actually
at the same level as the lower ones, but about a half or quarter of a floor up.