You Will Be Remembered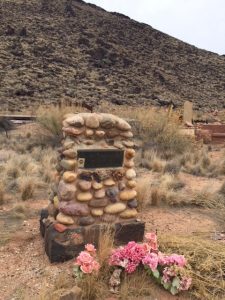 On my Sunday training runs for the Zion Half Marathon, I usually go for a run up Utah SR 9, heading towards Zion from the town of Virgin. A few miles up, I pass by this gravestone just off the highway, the only remaining thing of the ghost town called Duncan's retreat.
I have never seen anybody stop here. Most people are tourists going 70 along this lonely stretch of highway, hell bent for Springdale lodging, and if they were looking anywhere it would be the other way, towards the Virgin River. A rock quarry lies just behind it, and nothing that would draw your attention to it.
The history book has this to say about the long-gone town:
A man named Chapman Duncan settled here in 1861. Shortly after several other families moved here also. In 1862 the Virgin river flooded and destroyed most the town. A lot of the people moved away but new settlers came. By January of 1863 about 70 people lived here. In 1863 a post office was built, a school was built in 1864 along with a meeting house. In 1866 floods took its toll on this town also and over the next few years high water from the Virgin river destroyed the fields and killed the town. By 1891 the town was deserted. All that remains of the town today is a grave of a lady named Nancy Ferguson Ott who died here in town in 1863. Her grave is located on the north side of highway 9. (Submitted by Bob Bezzant.)
My understanding from other locals is that Duncan used to live in our town of Virgin (now population 600), but "retreated" to this place far from Virgin to get away from the bustling metropolis.
When Nancy Ferguson Ott died, Duncan's Retreat had 70 citizens, a post office, families, friends. It was a town, and they thought it would stick around long enough for there to be a cemetery with more than just Nancy, but Nature and circumstance had other ideas.
Now she is utterly alone, on a lonely stretch of anonymous highway, with no one around, no town, no post office, no friends no family.
I stopped to look at the grave marker. There are fresh flowers, stuffed animals, cards. They are replaced regularly by somebody somewhere. I do not know who.
I take some comfort in this, and I hope you do too. No matter who you are, or how alone you may feel in this world, Nancy Ferguson Ott is here, on State Route 9, miles from anywhere and anyone, to deliver this message to you: No one dies alone. You will be Loved, You will be Remembered.