Bubble Diagram Version One
We met with Ray Gardner on Monday and worked out our first real bubble diagrams.
Here is what we came up with (south is down):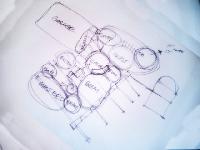 (click to enlarge)
The interesting thing about this is that it is very similar to the "version zero" diagram, in spite of
the fact that this one was drawn freehand by Ray, and we did not show him the first diagram, nor
did we tell him where to put things. All he did was ask a few questions, and the thing just unfolded
from his own knowledge about views, light, room placement and the like.