Solid Model CAD Pics of House
Ray Gardner just sent us some screenshots of a 3D CAD model
of the current (version 1.0) floorplan
(click to enlarge):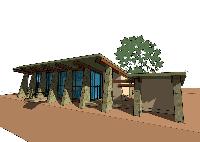 He also sent us the actual SKP format cad file that you can look at, walk-through etc
using a free Viewer. You can either download it directly from Sketchup.com
(they want your email address and blood type etc), or else here are the free viewer
installers I already downloaded for Windows and Mac OS X (Classic macs and linux systems are out of luck).
Looking at the 3D cad model and spinning it around has already helped us figure out some
of the things we need to change. By the way, don't take the size of the people in the
model too seriously for a sense of vertical scale: we've figured out that at this scale those people are almost 7 feet tall !