Sedona Journal – 2020

Preface
With the prospect of lengthy election-related noise in front of us, Gigi and I decided to take a week-long vacation from the world and head down to Sedona, Arizona, far from technology, news, internet, phone, or other channels by which the world would tell us more than we want to know.
Phoenix, Arizona
Our first leg of the trip would be a drive down to Phoenix Arizona to visit my younger brother John and his wife Sheri for the weekend. On Sunday we plan on heading north to Sedona for the rest of the trip. 
Friday, October 30, 2020
Sunny, warm
We drove down the 89A along the North Rim of the Grand Canyon, and from there straight down the 17 into Phoenix and John and Sheri's house. They gave us a tour of their house; they had moved back to Arizona from Sacramento, where John had been working for a while.
Saturday, October 31, 2020
Sunny, shorts weather
Desert Botanical Garden
In the morning we visited the Desert Botanical Garden, whose exhibits were accented by large colorful plastic animals.
Barking Bar
Later that day we took bikes over to the "canal" and stopped at the O.H.S.O "Barking Bar" Brewery which served good beer, nachos, breakfast burritos and other fare. Also Mimosas. The bikes in the background have fans in the wheels. Camelback Mountain in the distance.
This was a dog-friendly venue and many dogs hung out with their masters and had lively conversations.
Arizona Falls
After brunch we rode further down the canal to Arizona Falls, a dam whose design was inspired by Frank Lloyd Wright, and includes poetry about water and life.
Halloween and Fossils
That evening was Halloween, and we sat out front and ate chili while we handed out candy to the neighborhood kids. I noticed that John had framed a set of fossils, including the trilobite that our grandfather Norvis ("Nick") Edwards had found during a road construction job, and sent to us.
Sedona, Arizona
Sunday, November 1, 2020
Corn Maze ("Maize Maze")
John and Sheri joined us on our way out of Phoenix at Tolmachoff Farms, to explore a Corn Maze. The maze folks gave us a blank map of the maze, which we could fill out with patches of the maze map that we may run across along the way. As a mathematician, my brief glance at the overview map told me that we could "solve" the maze using the simple "right hand rule" (run your right hand along the wall and follow it where ever it goes). We spotted several of the patches (and some riddles) on our path to the exit, but did not find all the patches. So instead of going out the exit I followed the right hand back into the maze, which took us to other segments that (mostly) recovered the other patches. Fun!
Postscript to Maze: After returning home, I suddenly noticed that the shape of the maze was a pickup truck. I pointed this out to Gigi, who replied that she and Sheri noticed that it was a truck all along and were even commenting on being along the "fender" etc but (me being obsessed with solving the maze) had never noticed this obvious fact.
Arrival at Briar Patch Inn
Sunny, cool but pleasant
After leaving Phoenix we drove up to Sedona and checked in at the Briar Patch Inn bed and breakfast. We had reserved their "Heron" cabin, which had a secluded patio and was next to Oak Creek. We were married at the Briar Patch back in 2002, and when visiting we usually stay in the Casa Piedra cabin, but it was booked. The weather was pleasant, sunny but cool. By this time I had put my phone on Airplane mode, and there are no phones or TV's in the cabins. The world outside was going away.
The Briar Patch Inn has a dozen or so small rustic cabins scattered about the tree-lined grounds, some large enough for whole families with full kitchens, others just enough for one person with few needs but privacy.
The grounds surround a grass-lined lawn where two sheep graze. When we first came to the Briar Patch, their names were Woolly and Bully. They have since moved to greener pastures, and we are now hosted by two sheep named Rosie and Posie.
The swimming hole is at a place where the creek slows down, bounded on each side by small cascades. It is a bit too cold now to swim in, but is very pretty and peaceful.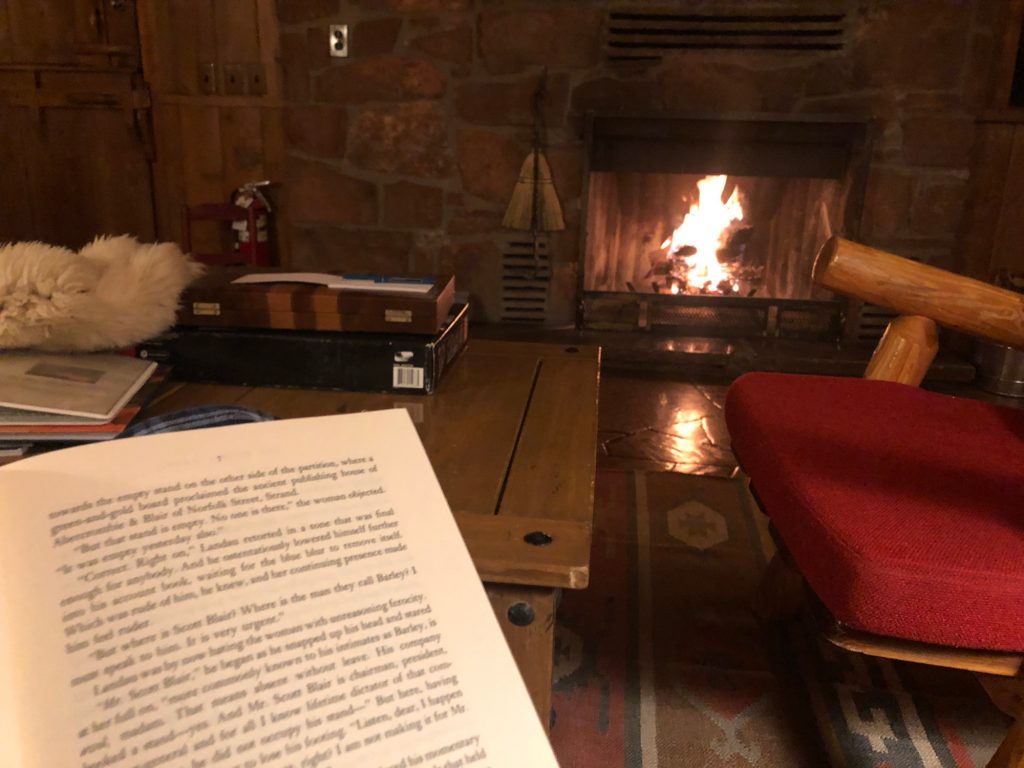 We settled in for the night and lit a fire in the fireplace, with a large stack of books to read in cozy settings.
Monday, November 2, 2020
We drove out to "Montezuma's Castle" and "Montezuma's Well", both ancient anasazi settlements notable for having nothing to do with Montezuma (who lived centuries later and never came through here). We reconnected to the world just long enough to get word about our cat Desert Kitty and our dog Blue. Kitty had been feeling bad when we left, not eating, but we got good news that he (whom our cat-sitter renamed "D-Cat") was eating again.  At least now I would sleep better.
Tuesday, November 3, 2020
Cloudy, thunder and lightning. Rain.
Election Day in the US. We are offline.
We were heading to a train ride through red rock and ancient native ruins. We bought "first class" tickets, which gave us a nice train car with a champagne toast at the beginning, along with snacks. I understand that the $800 deal would give one a caboose and no other people. Tempting; I would prefer no exposure to other people, bringing with them news, virii and political notions — or, god forbid, baseball caps.
Our car is the "Sycamore", though its original name could still be seen on the end exit. We are seated on the "engineer's left," which is a double-seater facing another pair of seats (unoccupied for COVID). After looking at the map it was clear that we would have preferred the right-side of the train, which were pairs of singles with a view out to the river gorge and fall colors. Fortunately, we had the option of getting up (with masks) and going to the open-air car where one can look out and over views, and take pictures.
Scene: One of the host/guides came into our car and she was encouraging everyone to get out and take in the view of the open car. Gigi had already done so, but a woman across the aisle from us had not, and started crying inconsolably. The host noticed the woman and came over to find out what was the matter. The woman was older, gray-haired, and sat alone. She explained through the tears that she and her husband had planned to go on this trip for years now, and that just before they began the trip he died unexpectedly. The woman had decided to go on the trip by herself anyway, and now here she was seeing all these beautiful sights, but without her partner to share them.
Along the way, the loudspeakers were playing songs with train themes. For the record, among the songs that we were able to identify included:
(Doin') The Locomotion (Little Eva / Carole King and Gerry Goffin)
Peace Train — Cat Stevens
City of New Orleans — Arlo Guthrie
Petticoat Junction theme — Curt Massey / Paul Henning
Midnight Train to Georgia — Gladys Knight & the Pips
Last Train to Clarksville – Monkees
Blue Train – Johnny Cash
Gotta know when to Hold 'em – Kenny Rogers
Homeward Bound – SImon & Garfunkle
(Join the) Love Train – The O'Jays
Nobody Cares About the Railroads Anymore – Harry Nilsson
Canadian Railroad Trilogy – Gordon Lightfoot
Wednesday, November 4, 2020
Gigi's phone is now off, and mine is on Airplane mode, turned on only for the flashlight and clock. Light and Time, in other words.
The agenda for the day: stroll the grounds of the Briar Patch, sit on the wooden swing by the creek, build another stack of logs in the fireplace, read a few chapters of a John LeCarre novel (Russia House), make plans to begin assembling at least the foundation of a Lego block model of Frank Lloyd Wright's "Robie House".
3pm: We have finished the foundation of the little house and are declaring victory for the day.
New people have arrived at the Briar Patch; we can hear them talking. We closed our door, lest they carry with them news of the outside world, for good or bad.
Home cooked dinner: Grilled curry chicken, squash and grilled onions with rice. A Negroni digestiv cocktail. Played recorded music by Lyra, who often plays here.
Thursday, November 5, 2020
Drove down to look at Arcosanti, a project by Paolo Soleri, visionary architect who lived from 1919 to 2013. Long time. "Arcology" was his name for a merging of Architecture and Ecology, and began the Arcosanti development based on his ideas.
The Journey Home
Friday, November 6, 2020
A quick trip down to the V-bar-V Ranch, to view some ancient petroglyphs, then hit the road for home. Blue Dog and D-Cat were pleased to see us. Good to be home. Wonder what has been happening in the world. The cat doesn't seem to care. Neither do I, all I'm thinking of is the afternoon sky in Sedona.