4.0 Proposal
After our Thanksgiving dinner, we re-thunk our plans and realized we like the earlier
plans a lot more. So we spent some time working out what we liked about the later plans
and tried to integrate them into the earlier (2.0) plan. Here is what we came up with: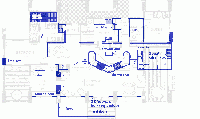 NB: If you notice some things changed from the last time you looked, its because I upgraded
my home system from linux Fedora Core 2 to Core 3 this weekend (12/4/04), and in the process
blew away some data files. It happens. This is from a backup from a few days ago.