Ritter Block Retrieved
Gigi and I flew out to Illinois and were able to meet up with my folks out
there and return with the Ritter Block to be used as the cornerstone of the
house.
We stayed at Aunt Pat and Uncle Jerry's house. My dad, Uncle Bob and
his wife Lillian also came up from Arkansas. We were given a tour of
Pinckneyville and surroundings, where my great grandather George lived,
along with his sons Charles (my granfather), Leo and Bill Ritter, my father Don,
and a lot of other Ritters. We also dropped by Aunt Eunice's house (Leo's wife),
who showed us through her museum and gave us a history lesson of the Ritters
here in southern Illinois.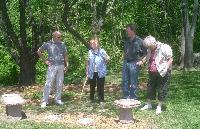 Dad, Aunt Eunice, Niles and Aunt Pat in Pinckneyville