The Day Santa Wept
[My mother's article, reprinted from The Argus]
The Day Santa Wept
By Lucille Mieher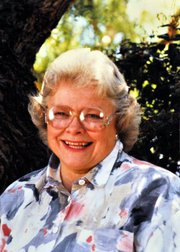 It was early December, 1957, and I was climbing the steps to the second floor of the sprawling brick building. Looking down at my my bright red costume, I thought how fitting for a woman 8 1/2 months pregnant to play Santa Claus. No stuffing needed. A naturally round "jolly old elf."
Stopping at a landing to catch my breath and adjust my wide black belt, my thoughts went back to September when this had its beginning. The young women's club I had just joined had several pet projects, one of which was entertaining a ward at our local state mental hospital. Kentucky was having its typical Indian summer, I was suffering from the heat, and quite frankly secretly dreading this philanthropic chore.
"Let's forgo the Bingo games today," said the activities director, "and take the patients for a walk on the grounds. It's cooler out there."
As we gathered the people together, I noticed one young woman sitting on the floor, her back to the wall, her arms holding her knees tight against her chest, her head bowed.
"What about her? I inquired.
"Oh, that's Evelyn," the patients volunteered in unison. "She never does anything. Leave her alone."
Ignoring their advice, I went over and touched her shoulder.
"Evelyn?"
Slowly she raised her head and I saw that she was probably my age or a few years older. Her eyes were expressionless until she spotted my maternity top and the obvious condition beneath it.
"You're pregnant, aren't you." It was more a statement than a question.
"Yes, I am, and we're all going for a walk out under the trees. Come with us." I held out my hand to her.
We went for a walk
She hesitated, then put her hand in mine and slowly rose from her crouched position.
As we walked, she began to talk, mostly about children. She asked questions: "When is your baby due? Is this your first? Do you want a bory or a girl?"
I said, "The baby is due in late December, I already have a three-year-old boy,l and I'm kind of hoping for another boy."
Then it was my turn to do the quizzing, "Do you have children?"
She became pensive for a moment, and then, in almost a whisper, said, "Yes, I ahve two beautiful little girls, only a year apart in age. I'm not sure how long it's been since I saw them. I do remember waving to them as they boarded the school bus. We live in the country." Evelyn and I continued to walk and talk.
After the outing and a cool drink of lemonade, our club returned our charges to their ward. As I waved good-bye to my new friend, she called out, "Good luck. I hope you have another boy."
Back as Santa
Now here I was back again, but this time eager, rather than apprehensive. I practiced my "Ho Ho Ho" one more time, and entered the ward.
As I handed out presents and candy canes to the patients, I kept scanning the faces in search of the one most familiar to me.
"Where's Evelyn?" I asked the nurse who was plaing Santa's helper.
"She's not here."
"Oh, no." I was almost afraid to ask the next questino. "What happened to her?"
Seeing my distraught face, the nurse continued, "Don't worry, it's good. In Septermber — I guess it was soon after your group was here — she began to respond to treatment. She asked to see her husband and children. They visited her, and she was allowed to spend Thanksgiving Day at home with them. That went so well, and she showed so much improvement, the doctors granted here what we call a 'furlough' to spend the month of Deember with her family. With luck, she may never have to come back here."
Needless to say, Santa stood there crying in his beard. Tears of joy.
Two weeks later, my son was born.