Here is a new PDF of the latest 4.2 plans. And here is a quick snapshot of the plans: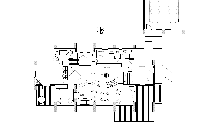 The main differences in this plan are that we have moved the central deck over to the
eastern deck, along with the exit door. Also, Ray wanted to make the kitchen counter
more centered with the roof beams, and so has moved it about 3 feet to the west. In
the process, he has also moved out the wall to my office an equal amount, creating
a space in the northwest corner of the southwest room that can be used for the
soundsystem components. This goes along with our intent that the southwest corner
will be used for the TV, music etc center.
The new plans are not as symmetrical as the previous design, but we think this
placement of the deck is a practical improvement on the views and usage.
There is also an extension to the kitchen counter, for use by people at the level
of the great room. Not sure if we like this or not.