Here is a sketch of possible changes (see below)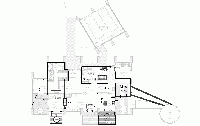 We are looking at the "Second Try" layout and trying to figure out
how to address some of the things we are still not settled on. In
some ways we like some of the "First Try" features better, but
also know that won't work. We've been looking at some designs of
"cabin" interiors that we like and have come up with some general
goals. Above is a vague sketch of how it should go, but we do not
have to go with it if someone comes up with something that works or
feels better.
Goals for next try:
1. Reduce Footprint to 1800
2. Create fireplace for master bedroom, possibly by
rotating bedroom down into Jean's Room and sharing
same FP as great room from opposite side. Bedroom
will now open right out onto main deck, and jacuzzi
should be moved over, as the two leftmost columns
will now disappear.
3. Move sinks and kitchen down to current location
of nook. (the range / counter will have to be rotated
90 degrees to fit).
4. Move Jean's space to a loft over Kitchen
5. Move Utility room down to former location of
kitchen.
6. Change "Guest" room to "Niles Study", and move it
south 12 feet. It can be made smaller, 10′ square
or so, windows facing south. Place an exit out the
east side of study, with a ramp to allow rolling the telescope
out to pad.
7. Take former space occupied by Utility room and
turn it into (smaller) guest room. The bathroom does
not necessarily have to be attached to it, but if you
flip the current bathroom and the secondary entrance
hallway it should work.
Only 7 changes! That's a lot better than the first time around. There is
hope yet…